What Is Amateur Radio?

Amateur Radio operators come from all walks of life –doctors, students, kids, politicians,
truck drivers, movie stars, missionaries and even your average neighbor next door. They are of all ages,'
sexes, income levels and nationalities. Whether through Morse Code on an old brass telegraph key,
voice communication on a hand-held radio or computerized messages transmitted via satellite,
all hams use radio to reach out to the world.
Amateur radio, also known as ham radio, is the use of radiofrequency spectrum for purposes of non-commercial exchange of messages, wireless experimentation, self-training, private recreation, radiosport, contesting, and emergency communication. The term "amateur" is used to specify "a duly authorized person interested in radioelectric practice with a purely personal aim and without pecuniary interest;"[1] (either direct monetary or another similar reward) and to differentiate it from commercial broadcasting, public safety (such as police and fire), or professional two-way radio services (such as maritime, aviation, taxis, etc.).
The amateur radio service (amateur service and amateur-satellite service) is established by the International Telecommunication Union (ITU) through the Radio Regulations. National governments regulate technical and operational characteristics of transmissions and issue individual stations licenses with an identifying call sign. Prospective amateur operators are tested for their understanding of key concepts in electronics and the host government's radio regulations.
Radio amateurs use a variety of voice, text, image, and data communications modes and have access to frequency allocations throughout the RF spectrum. This enables communication across a city, region, country, continent, the world, or even into space. In many countries, amateur radio operators may also send, receive, or relay radio communications between computers or transceivers connected to secure virtual private networks on the Internet.
Amateur radio is officially represented and coordinated by the International Amateur Radio Union (IARU), which is organized in three regions and has as its members the national amateur radio societies which exist in most countries. According to an estimate made in 2011 by the American Radio Relay League, two million people throughout the world are regularly involved with amateur radio.[2] About 830,000 amateur radio stations are located in IARU Region 2 (the Americas) followed by IARU Region 3 (South and East Asia and the Pacific Ocean) with about 750,000 stations. A significantly smaller number, about 400,000, is located in IARU Region 1 (Europe, Middle East, CIS, Africa).
for more info Check out this short Amateur radio video
Follow theses steps to getting your Amateur Radio Technician license
Getting Your Amateur Radio License
Getting your first amateur radio license is fairly straight forward. In order to get your first license, you need to study for a 35 multiple choice question exam. The exam fee is $15. That's all that's required. There are actually 3 classes of license, each with progressive / cumulative privileges, each requiring additional exams. Most people start off with the entry level license class (Technician) and then later upgrade once they are involved in the hobby and have gathered more knowledge through use of the service.
The ARRL (American Radio Relay League) is the national association for amateur radio and is a very good resource for study materials and the like. The ARRL Ham Radio License Manual, 3rd Edition is a highly recommended license textbook which goes into details regarding not just what is on the exam, but it also functions as a good grounding into the hobby itself.
There's a number of free online practice exams that perfectly simulate the exam, which can be used to determine how ready you are for the exam. AA9PW FCC Practice Exams, eHam.net Ham Exams and HamTesting.com are the most popular. Once you feel you are ready for the exam, you can find a nearby exam session on ARRL's License Exam Session database. You will generally need to bring a pen or pencil, two forms of state acceptable ID (at least one being a photo ID), a basic calculator and the $15 exam fee.
Most people get their license by self-study and the like, but certainly if you need any assistance with getting your license, please feel to
First Buy Amateur Radio Technician license book
use the guides above and take practice exams on website below Remember: Technician license you MUST get 25 questions correct out of 35 in order to pass for your Amateur Radio Technician license exam ( there are 500 questions in the Amateur Radio Technician license)
JOIN A Amateur Radio Clubs or Group in your Area or city (Massachusetts Listed Below)
these groups or clubs mite give lessons or have someone in club willing to teach you about Amateur Radio
YouTube Videos
Information for Beginners
History Of Amateur Radio
Study Guides and Reference Books
Getting on the Air
The two primary methods you'll use are simplex and through a repeater. Simplex is where you talk and receive on the same frequency. It's sometimes called 'direct' as one radio is talking directly to the other. The distance you can talk on simplex depends on the power of your radio, the efficiency of the antenna, and the terrain or objects in between the two radios.
Repeaters are essentially two radios working back to back. The repeater receives on one frequency and transmits on another, the radio operates likewise. The repeater typically receives the lower power signal from the radio and re-transmits it anywhere from 30 to 100 watts. This means it covers a large area.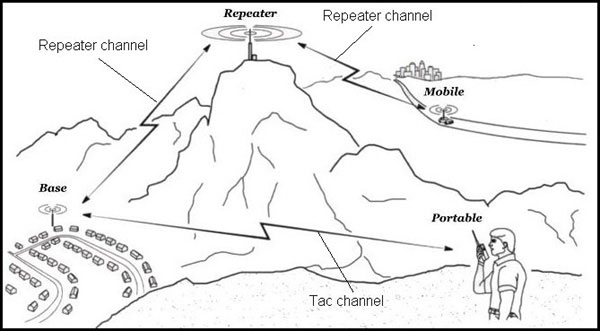 There are standard simplex frequencies, chosen so they don't interfere with any repeaters. Repeater frequencies are usually coordinated so they don't interfere with another repeater on the same frequencies. A list of repeaters for any area can be found on www.repeaterbook.com.
FCC Part 97 Rules & Regulations for the Amateur Radio Service. Rules effective November 1, 2017.
Item No. 1173 – $7.95
Full color, 11 x 17 inches. Worked All States (WAS) map on backside. Keep nearby your station for quick look-up.
Item No. 1126 – $3.00